CANexercise- Coming soon!!
Proactive Rehabilitation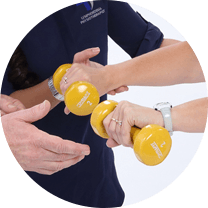 If you have been recently diagnosed with cancer or are undergoing treatment, it's important to take special care of yourself.
Studies show that one of the best ways to do this is to stay physically active by including exercise into your daily routine.That doesn't mean you should train to run a marathon, but that it is of great benefit to add some form of regular exercise -- even during cancer treatment. Moderate aerobic exercise, such as riding a stationary bicycle or taking a daily walk, coupled with the use of light weights for strength training, can enhance physical well-being and enhance recovery.
The Oedema Clinics cancer exercise program is uniquely designed for individuals undergoing or recovering from cancer treatment. The program includes active rehabilitation exercises to ensure effective movement, recovery of functional deficits and improve wellbeing.
Oedema Clinics physiotherapist run the exercise classes and cater to all levels of activity, from those who need to exercise in a chair to those who feel well and are progressing to increase fitness.
Appropriate exercise under professional supervision - before, during, or after treatment - seems to substantially improve your odds at surviving cancer and being well thoughout the treatment. Findings of the Exercise Medicine Research Institute, Perth, WA.