PhysioTouch
What is PhysioTouch?
PhysioTouch is a unique, innovative negative pressure device that applies suction to the skin, mobilising the underlying soft tissue in a vertical direction, stimulating the lymphatic system and metabolism resulting in a rapid acceleration of the healing process.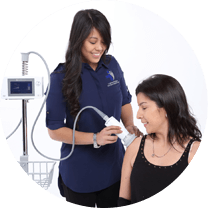 PhysioTouch is revolutionising the treatment of oedema, fibrosis, muscle, tendon and fascial injuries, scarring and pain. The application of gentle negative pressure with the added pulse and vibration settings provide a unique tool in the hands of the therapist to deliver physiological advantage in the treatment of all musculoskeletal injuries and any condition where there is inflammation, oedema and pain. The PhysioTouch delivers speedy, positive outcomes that massage and other tissue manipulation techniques cannot match.
The PhysioTouch treatment can be applied to virtually any area of the body needing treatment with different size "cups" to suit large or small areas as well as fingers and toes.
Physiological responses include: resolving and breaking down fibrosis (fibrolysis), reducing oedema and inflammation, softening and remodeling scar tissue, reducing pain.
"We've been working with the PhysioTouch system for our lymphedema and post-surgical population for several months and are having absolutely incredible results." Ken Johnson, Physio manager, Johns Hopkins Hospital
Our clinic uses PhysioTouch technology, which ensures high-quality, consistent treatment experiences for our patients.
The unique lymphatic response to the PhysioTouch enhancesl lymphatic drainage and achieves remarkable results in the treatment of all forms of inflammation and oedema. It is particularly well suited to the treatment of lymphoedema and lipoedema.
PhysioTouch offers a pain free and cost-effective treatment solution for scarring, oedema and promotion of wound healing.